Pattern traders, technicians, and active traders in general love to watch for key levels.  To some, it's obvious to expect a reversal if that level is reached, while others expect a break.
Both sides have their case, and frankly, that's what makes a market!
Today I wanted to point out an example of a stock I've been watching which has yet to do either.  A key level – which has been tested multiple times not only in recent months but also in recent days – is the focal point right now, and one way or another I think there's going to be a play.  Here's the setup: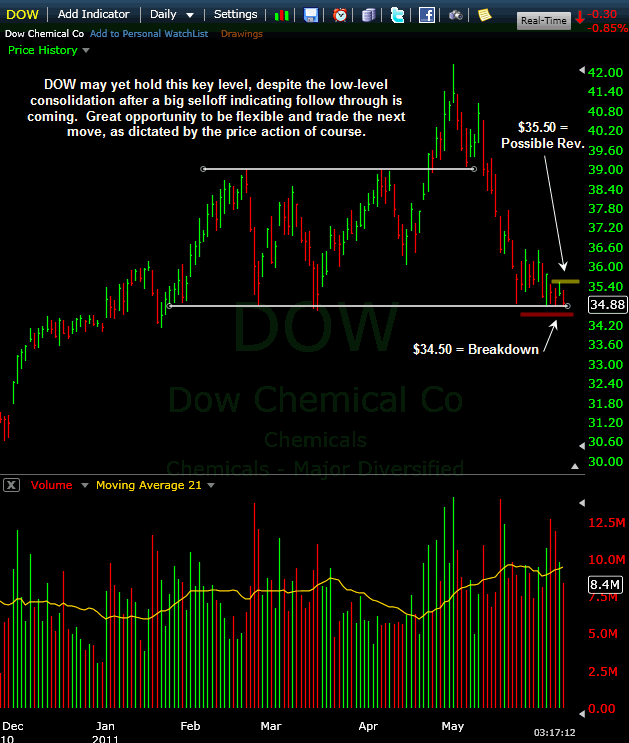 DOW is clearly not in great shape here, as we've seen a steady slide from the May highs with every little bounce attempt getting sold.  Plenty of distribution too as volume has spiked numerous times on recent selloffs.  For the past 2+ weeks, the stock has lingered right near key support, looking like it could crack any day.
And yet it hasn't.
The market overall has been very weak.  The stock itself has yet to bounce, but it's also ignoring a textbook breakdown opportunity here to really crack.  And that has my attention.
At the start of this post, I mentioned how some traders are predisposed to watch for reversals and others watch for breakouts/breakdowns.  I'm in the latter camp most of the time, and especially when the stock is consolidating against that level.  DOW has been on my watch list for a breakdown in recent days, but I have yet to take an entry (since it hasn't happened yet).
Currently, with the market oversold and this stock hanging tough like a NKOTB, I'm now open to a trade in the other direction (upside reversal).  Isn't that one of the huge advantages of trading the market?  It's like putting money on a horse when it's running the back stretch, well after the race has started.  The willingness to switch directions or modify (or reverse) an opinion is something flexible traders must have.  This is one of those chances.
How I'll approach this one is to use $35.50 (multi-day high) as a pivot for getting long, and $34.50 (breakdown) as a pivot for going short.
Trade Like a Bandit!
Jeff White
Producer of The Bandit Broadcast