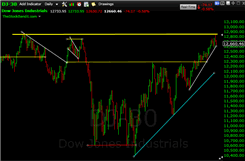 Last week the senior indexes put in some much-needed rest with the news flow prompting a bit of a pause in the action.  Big-name earnings reports, the State of the Union address, and an FOMC meeting all left traders unwilling to press the upside for the most part, allowing the market the opportunity for some healthy basing.
In preparation for the trading week ahead, let's examine some important levels to keep an eye on for the indexes. That will have the greatest influence on how individual stocks are going to move, so it's part of our Sunday process.
(Direct video link is here for those interested in embedding it elsewhere to share).
Be sure to view in HD (720P) and full-screen mode for best quality in the video.
Trade Like a Bandit!
Jeff White
Producer of The Bandit Broadcast
Get our free newsletter to keep up!
Follow @TheStockBandit