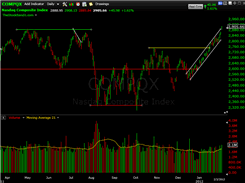 Following some healthy basing action in the previous week, we saw stocks head higher once again last week, continuing the 7-week uptrends.
The NAZ tagged 11-year highs, while the other indexes approached key levels from 2011. All news is good news these days, and it seems stocks may never decline again. Careful though – be sure to manage risk accordingly on new positions after a run of this magnitude. Could be that the first pullback is a good one with so many looking to lock in profits at some point.
In preparation for the trading week ahead, let's examine some important levels to keep an eye on for the indexes. That will have the greatest influence on how individual stocks are going to move, so it's part of our Sunday process.
(Direct video link is here for those interested in embedding it elsewhere to share).
Be sure to view in HD (720P) and full-screen mode for best quality in the video.
Trade Like a Bandit!
Jeff White
Producer of The Bandit Broadcast
Get our free newsletter to keep up!
Follow @TheStockBandit