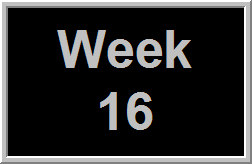 Week 16 is in the books, and truth be told, I would have been better served to have sat on my hands!
I wanted to offer a video recap of the trades I took.  As you'll see, I was stopped out several times on head-fake types of entries with stocks showing extremely limited follow through in either direction.
On weeks like this, it's nice to be limiting risk.  Each of us will encounter stretches where failed trades happen more often, and this was that week for me.  I found a few winners, but the key for me was limiting my losses in order to maintain my objectivity and minimize the damage.  This is where setting ego aside can truly save you in your trading, as backing away with smaller size on messy weeks will leave you digging shallower holes by digging with a smaller shovel!
This show-and-tell look at the trades I took this week should give you a feel for not only how I managed my trades, but also the kinds of setups which have been working well of late. And for those curious about our trading style in the member area, this should give you a good indication of what a typical week looks like. Check out the trial if you're interested in adding our ideas to your own.
(Direct video link is here for those interested in embedding it elsewhere to share).
Be sure to view in HD (720P) and full-screen mode for best quality in the video.
Trade Like a Bandit!
Jeff White
Producer of The Bandit Broadcast
Get our free newsletter to keep up!
Follow @TheStockBandit