The double top pattern – like the double bottom pattern – is over-diagnosed.  Anytime a stock challenges a previous high, the amateur technician jumps at the chance to declare a double top in the making.  And generally they're premature in doing so.
But the professional takes a different approach.
Rather than seeking to be the first to recognize a trend shift, it's better to wait for confirmation of that change to come along.  And in the case of the double top pattern, that requires a break of the reaction low or pullback low which was established between the peaks.
A stock fitting this description right now is VZ, which just confirmed not only a double top but has also offered an additional layer of importance by failing to reclaim former support on the bounce.
One other note is to take a look at the 2nd high on the chart on Aug 1.  Price touched the previous high to the penny (not a requirement for a double top, by the way) and failed to clear it, but something else happened which was noteworthy:  the finish for that day was much weaker than the day when it initially marked a high (July 18).  This is another thing to watch for which might offer clues that a stock is perhaps running out of steam and deserves a closer look going forward in anticipation of a potential trend change.
Going forward for VZ, the path of least resistance is down, at least until the $43.40 area (lateral support/resistance) is reclaimed on a closing basis.  That's the level which can now be traded against.  The stock looks to have next support around $41, which was a level of importance back in May.
Here's a closer look at the chart of VZ for you: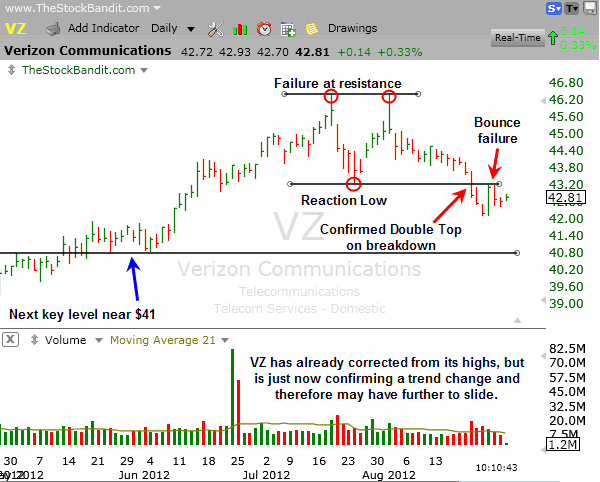 Be careful jumping to conclusions about double tops or bottoms.  Instead, be patient enough to wait for confirmation of a trend change so you can trade with greater confidence of the direction.
Trade Like a Bandit!
Jeff White
Subscribe to our Stock Pick Service to get our trades.