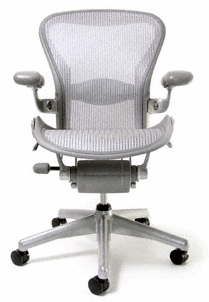 I never thought I would spend $750 for an office chair, but when my high-back leather chair left me feeling like an old man at the end of the day, I knew it was time to consider a better alternative. I'm way too young for that!
The Cadillac of trading chairs is the Herman Miller Aeron. It's fully adjustable, and they thought of everything – forward tilt, seat height, tilt tension, lumbar, tilt limiter, and more. So, I went to the local showroom to investigate, and I couldn't believe the adjustments I could make to this chair to ensure that my posture stays good all day. The material doesn't get hot like a leather and foam chair, which makes it comfortable all day to park myself in when trading.
What really sold me was the idea that I could get up at the end of the day feeling just as good as when I sat down, and after many months, I can honestly say I haven't been let down. Let your next good trade pay for a quality chair…..your neck and back will thank you!
Jeff White
President, The Stock Bandit, Inc.
www.TheStockBandit.com