Some trades are profitable while still offering us clues as to just how well they are working. While our primary objective is to turn a profit with our trades, it is certainly important to monitor the behavior of our trades to do our best to determine what we should expect going forward.
I highlighted SNDK in my stock newsletter on Wednesday night with lower highs in place and a bear flag pattern which had subsequently formed. The short selling entry point was a downside break of $66.00 at the lower line.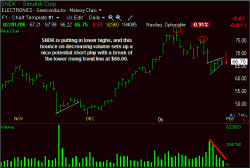 The following day, SNDK triggered and showed us $0.98 in profits. On Friday, it dropped another $0.97 for us, showing us a total profit per share of $1.95 from our short entry.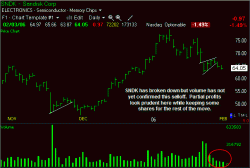 While I do like the fact that this short sale trade is working, I am a bit concerned by HOW it is working. Although beggars can't be choosers, I would much prefer to have seen volume kick in with higher levels on Thursday or Friday to indicate intense selling in SNDK as it confirmed the bear flag. So far, we've gotten profits but it looks a bit iffy to me. As a result, I'll plan to take partial profits to lighten up on shares in case this stock bounces. Doing so will prevent me from giving back full profits, while at the same time allowing me to stay in the trade if a larger move develops. Perhaps soon SNDK can find greater downside volume, but it's important to operate with the facts we are given as traders, so I'm turning slightly cautious on this trade which is working but not technically sound.
Jeff White
President, The Stock Bandit, Inc.
thestockbandit@thestockbandit.com