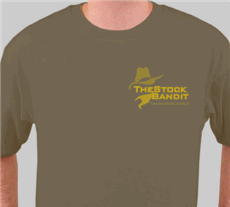 One of the nice things about trading is that you can wear a t-shirt and jeans every day. But, wearing part of this morning's Krispy Kreme jelly doughnut blowout doesn't look too pretty. Win today's trivia and get yourself a replacement!
Oh, and wear a bib next time.
Now let's get to the main event!
Only a few rules apply:
1. You must use the contact form when you submit your answer.
2. Include your name & mailing address when you submit your answer.
3. Only the first completely correct answer submitted will win a t-shirt.
Today's 2-part T-Shirt Trivia comes from an episode of Seinfeld (one of the very best shows out there).
In one particular episode, George Costanza pretends to be a marine biologist to impress a woman and he saves a whale.
– What did they find in the whale's blowhole?
– How did that object get there?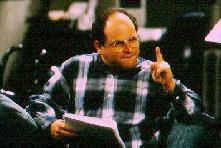 If you know the answer, send me your name & address via the contact form, and the first to correctly answer both questions wins today's t-shirt! Good luck!

Jeff White
President, The Stock Bandit, Inc.
www.TheStockBandit.com