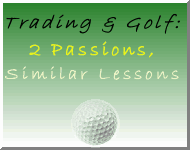 Welcome to my Trading & Golf series! My first series generated a lot of interest, so here I am kicking off my second. Also, thanks to reader Ned who suggested that I do a post on this topic! Little did I know I would end up making a series of posts instead (during U.S. Open week, no less).
Trading and Golf are two of my biggest passions, and I've spent many years improving my skills in both endeavors. Each of them teach similar lessons on a regular basis, so I figured why not point a few of them out!
Trading and Golf are two things which can never truly be mastered, which means they present endless challenges. In both arenas, however, there is always plenty of room for improvement!
I've been a trader since 1998, and I've been an avid golfer since 1989. Although some of you might have been doing either of these for much longer, hopefully I'll be able to share some thoughts which you find helpful. Please feel free to contribute your ideas along the way!
Golf-wise, I played competitively on levels ranging from high-school tournaments to Nike Tour events. I've shot under par more times than I could possibly remember, but I've also had plenty of 3-putts and double-bogeys along the way! 🙂 Like trading, golf will humble you when you least expect it, so it's never a good idea to start thinking about how good you think you are! I'm a full-time trader and also have experienced a broad spectrum of results ranging from times when I didn't know which way was up, to other times when I felt I couldn't lose. Like golf, trading will involve some surprises, disappointments, and plenty of insights about yourself.
When it comes to golf or trading, neither one has a memory. It doesn't matter what you did yesterday or last year, you'll still have to prove yourself. This constant challenge can be a battle, but it can also be so incredibly rewarding. Trading can of course provide untold sums of money when you become great at it, but both golf and trading can give you extreme confidence when you overcome a challenging situation. It can be a tremendous rush to nail a trade or hit the perfect golf shot, and few things are as exciting as breaking through your old limitations to post your best trading day or 18-hole score.
This series will include more posts which will be presented in a bit more of a rapid-fire style than normal as I experiment with some shorter posts on a more frequent basis. I hope you'll stick around and feel free to add your thoughts in the comments section anytime you feel like it! I definitely don't know all there is about trading OR golf, so your participation is welcomed as always!
By the way, subscribing to this RSS feed will mean you won't ever miss a post!
Jeff White
President, The Stock Bandit, Inc.
www.TheStockBandit.com
[tags]Golf, US Open Golf, US Open, Trading, Trading Psychology[/tags]