There is a lot to be thankful for right now if you're a trader. But if you've been part of the buy-and-hope crowd throughout the past 16 months, it's been a tough ride – and might not be over yet.
Ignoring account statements sure isn't the most responsible way to react right now, and yet it's probably incredibly common. Those familiar with that mentality are quite likely rethinking their approach, especially given the fact that the S&P 500 has actually lost 40% over the past decade.
Index funds, schmindex funds.
As a trader for the past 11 years, I've come to appreciate the flexibility that trading offers. I wasn't full-time initially, and yet I still recognized the aspect of defense which trading offers – a luxury that the buy-and-hope crowd knows nothing about.
During that time, I've run across many people who know a little about "the market" but very little about trading. Things like hardware, software, lingo, order types, psychology, money management and much more are just not the kinds of things that automatic investment plan types are familiar with. So when the market takes an all-out beating like it has since the 2007 top, many in the longer-term crowd would consider becoming short-term but simply don't know how.
Learning About Trading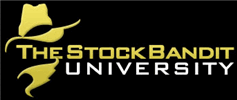 All along, I've been providing a premium service for those who are swing trading and day trading, but those who don't understand trading to begin with are not going to benefit from it.  They need a trading education.
There's a huge information gap between investors and traders, so I set out to bridge that gap with the creation of TheStockBandit University.
TheStockBandit University is a 4-week course set up in an on-demand video format to teach those with the desire to learn about trading.
To clarify…
This is not a what-to-trade course.
This is a course for the aspiring trader seeking some trading education. It is designed to take you from 0 to 60 in the trading realm in just 4 short weeks. It's there to equip you to start taking control and stop getting shredded in this (or any other) bear market.
Stop by the homepage and check out the intro video for more information on how to learn trading if you fall into that category.  Because remember, the idea isn't to invest but to Trade Like A Bandit!
Jeff White
President, The Stock Bandit, Inc.
Swing Trading & Day Trading Service
www.TheStockBandit.com
[tags]Stock Market, Day Trading, Stock Trading, Investing, Swing Trading[/tags]