With new highs being hit almost daily in the market, there has been an abundance of long-sided trade candidates. However, weak stocks are still in our midst, and it can serve us well to watch for those outliers – whether as individual profit vehicles or simply as hedges.
NFLX is one such stock. Not only did this one prove to be a market leader when it began trending higher a few months prior to the market turning the corner (NFLX in late 2008 vs. the market in March 2009), but it's now trending lower while the market continues to climb.
A pair of lower highs has been established since November, and currently the stock is struggling to reclaim recently-broken support. The bounce of the past few days is now starting to create a rising wedge pattern which, if confirmed with a move back under the $52.50 area, could bring another breakdown for the stock. If it does, this one is on my radar for a play.
Here's a closer look for you: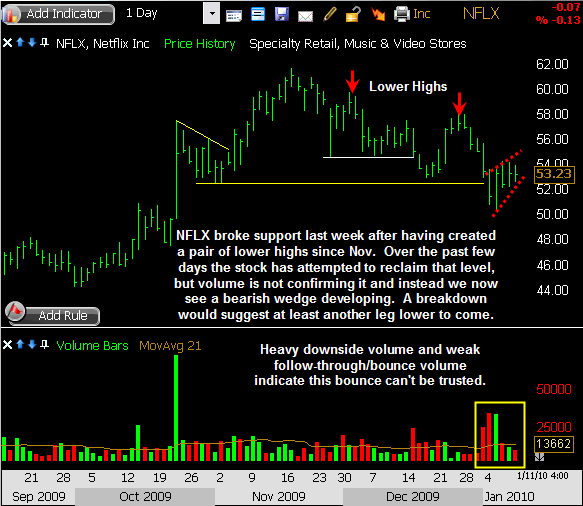 Trade Like a Bandit!
Jeff White
Are you following me on Twitter yet?