Anytime you find yourself in the midst of a streak in your trading, it's worth paying attention to. When you're winning, you need to find out why.
A few years ago, I was fortunate to put together a 13-month streak of consecutive net profits (profits every month for 13 months). The longer the streak continued, the more I thought about it, and the better it made me to sort of 'observe myself' during that run. I made note of not only my routine and the kinds of plays which were working, but I also included my thought process and the mentality I was bringing to the table. I still occasionally reflect on those notes to stay sharp.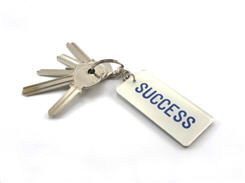 For the past 6 consecutive months, we've put together net profits in each month over at TheStockBandit.com (July, August, September, October, November, December).  Results can be found here.
Although I am trading confidently, I'm not telling you this in order to boast. I've been at this long enough to know the market will serve up a healthy dose of humility when it's needed!
Rather, I want to share with you some of the things I've been focused on in recent months that have brought consistent success, hoping it can improve your own process.
Here are 5 Keys I've taken from the past 6 months:
* Be Patient. I have not forced trades.  When setups were plentiful, I would get more aggressive.  Hence the reason some months had more trades than others.  When the setups were harder to come by, I was willing to wait.  The year is long, and there will be an abundance of opportunities, so there's no need to try to make something happen.  Watching and waiting for the must-take setups to come along pays off.
* Picky is Good. Before committing capital, I have been requiring high-quality chart patterns and situations which carry a nice potential payout.  Lowering your standards to second-rate setups will result in overtrading and a higher barrier to success, and trading is already hard enough without that.  You deserve the best, so require it if you're putting money into it.
* Take the Conservative Route. The occasional home run is nice, but they don't always happen on purpose.  In fact, swinging for the fences will send you right back to the dugout more often than it's likely to put you on base.  My approach has been to hit singles and ring the register more often, paying myself when I catch a nice move, but now wearing out my welcome.  The conservative route brings with it consistency and confidence, two things I strive for.
* Have Directional Flexibility. A willingness to trade both the long and short sides has led to my booking winning trades on the short side in every month during this run, despite the fact that the market has pushed relentlessly higher.  This was extremely helpful during July, September and October when we saw some brief market pullbacks as well.  Looking for outlier stocks can pay off, both in terms of winning trades and the occasional hedge to long positions.
* Monitor the Behavior of Positions. Never trust a skinny chef, or any stock you hold a position in.  I don't mind giving trades some wiggle room, but I do keep a close eye on the price action and how volume corresponds with it.  During this run, whenever I started to notice a discrepancy between what I expected to happen and what was actually happening, it was a clue that an adjustment may be necessary.  Every stock has some personality associated with it, so if that begins to change, give it your attention and be willing to modify your trade parameters.
The next time you find yourself in the midst of a nice run, take a little time to see what you can learn from it.  Take note of what's working and what isn't, do more of that which is working, and keep plugging along.  It will help you not only perpetuate the process you're already in, but it'll help you return to the same mode later on.
Trade Like a Bandit!
Jeff White
Are you following me on Twitter yet?