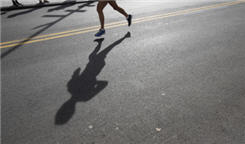 It's been said that good trading is a marathon – not a sprint.  I've said it too, because I agree.  Overnight riches come to very few, but the truly successful usually earn it over time.
Think about it…it takes some time to learn this game, to get comfortable, to evolve to where you're agile enough and have the discernment to switch styles or approaches when the situation calls for it.  A newbie only does that out of desperation. In this game, experience pays.
Truth be told, March has been a tough month for me.  I've been whipped out of some trades, bought some highs and sold some lows.  Naturally, it has elevated my frustration level.  The good news is that I've been here before.  I've had those months where I have struggled, and every time I've been able to battle back – thankfully.  This time should be no different.
I've looked over some trading results today, and it was a good exercise.  I was reminded that there are occasional stretches where I give some back to the market.  But they're just little phases, and they're inevitably followed by good runs – so long as I keep after it.  I don't have to make huge bets and get it all back in one trade, and I also don't have to force trades in order to see my account back at highs.  I simply need to keep a level head and persist.
Ask any distance runner, and they'll tell you it's all about maintaining a steady pace.  The hills hurt, like losing trades, but you maintain your tempo and push through it.  Cadence is important to cyclists, so they shift gears along the way in order to maintain that rhythm.
Similarly, you and I size up when we're in the groove, just a runner takes longer strides going downhill or a cyclist shifts to high gear.  When the road gets rougher or tougher on us, we scale back our size but we keep taking One Good Trade – that's our job.
Trading at times feels like a fun run…achievement comes easy and you get the t-shirt as a bonus!  At other times, it feels like an ultramarathon for which you aren't prepared.  Fortunately, we have the chance to rest along the way, and improve as we go.  Attitude is key, as is taking a long-haul approach with our career as traders – even if we love short-term charts!
How are you running your race?
Trade Like a Bandit!
Jeff White
Producer of The Bandit Broadcast
Are you following me on Twitter yet?