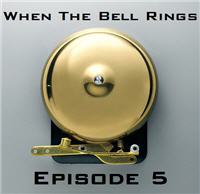 Today, I bring you Episode 5 of When The Bell Rings.
In this episode, we'll talk about some distinct differences among traders regarding their approaches to trading.  It should either give you some added motivation, or a boost in confidence.
I hope you get a lot out of this installment. Keep coming back for more in the days ahead, and of course if you find these helpful, then let me know!
Run time is 3:08.
(Direct video link is here for those interested in embedding it elsewhere to share).
Trade Like a Bandit!
Jeff White
Producer of The Bandit Broadcast
Get our free newsletter to keep up!
Follow @TheStockBandit