Last week one of my favorite bloggers penned a post called The Bears Are in Serious Trouble.  One who read that post and then saw the 512-pt DJIA decline the following day might have thought it was way off, and yet Eli was still right to publish that post.
You see, it wasn't about making a prediction. The title's operative word being 'are,' which was a present-tense fact. Stated otherwise, at the time it was still correct.  To that point when his post went live, he was exactly right…the market had withstood considerable uncertainties and held inside the range, leaving the bears in apparent trouble.
Since then, we've tumbled considerably, to the tune of about 800 Dow points as I write this, and each of the indexes have broken down hard.  That's alright, I don't think Eli's post was about being correct about what would happen next.
That's what it's like to put out your ideas as a blogger. It's not easy, and there are so many fine lines to walk…
You mention a good trade, you appear to be beating your chest and first in line for a big helping of humble pie. You come clean on your shortcomings too frequently and some think you aren't worth reading any longer. You put out an idea which the market renders obsolete, and you sometimes wish you could withdraw the post. Maybe Eli felt that way, but he held his ground and I respect him for it. He stepped out to make an observation, and while it is no longer the case, he was sharing what he saw as a trader.
I personally know it's not easy to be a blogger.  I've been blogging since January 2005, and here at TheStockBandit.net since December 2005. Over the course of some 600 posts, I've made my share of good calls and complete whiffs. I've pointed out names which looked good right before great runs, and I've pointed out others which completely flopped.  I've received many kind emails from readers expressing gratitude for my efforts, and the occasional knucklehead has told me how stupid or wrong I am (and yet they're reading).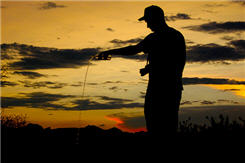 But you see, I'm not here to declare my ownership of a crystal ball – and neither are any of the great bloggers out there you're reading. They're sharing their thought processes as traders with you, putting their current opinions on the line, offering insights into their views of what's taking place, or sharing a trade they recently made which netted them some dough or delivered some education. If the bloggers you read are writing in that light, then respect them for it!
As a reader, keep this in mind: a good blogger is putting out a flow of ideas for your benefit.
Learn from what you're reading, and right or wrong, give them your appreciation for their effort. Shoot them an email, leave them a comment, share links on your favorite social platform (StockTwits, Twitter, Facebook, etc.), because if it's worth your reading it, you probably know several others it will also benefit.
And to my homies puttin out quality content, keep on doin your thing!
Trade Like a Bandit!
Jeff White
Producer of The Bandit Broadcast