As a pattern-based trader, I use a lot of trend lines on my charts.  When you look at my charts, the only indicator you'll see is the 21-period MA of volume, which is the running 1-month volume average.  Beyond that, it's just price, volume, and trend lines around the patterns I see in price.
I keep it simple.
Confirmation of those patterns is what I require before taking entries on 99% of my trades, which means price crossing through a trend line.  The way I view it, until that line in the sand is crossed, nothing has changed. The rest phase or pullback must not be done until then.  I may detect price perking up or volume percolating, but until the trend line breaks, the setup cannot be fully embraced as a positive change of character.
Right now there's an excellent example in the chart of AMGN of why waiting for that trend line break can mean preserving both capital and clarity.  The stock is bullish, no doubt about it, as the intermediate uptrend remains intact since it began last August.  Since then, we have a series of higher highs and higher lows.
In recent weeks, the stock has been pulling back quietly with some minor profit-taking leaving price drifting lower since the early-February peak.  The prior breakout was around $65 (January) so it could be the stock is in for a test of that zone, who is to say otherwise?  And until a break occurs to suggest the stock is back on the move, who cares?
Currently, the stock is floundering around beneath a very valid trend line, but no less a trend line which has yet to be crossed.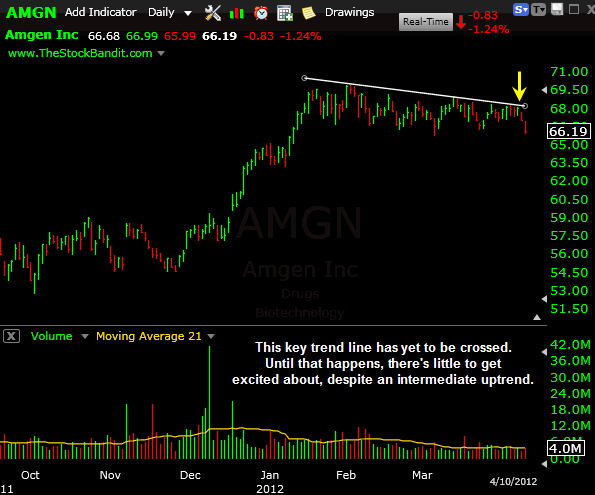 XOM is another example here as just recently the widely-anticipated push through the $88 level as recently as last week never happened. The stock has since fallen out of its channel to the downside. Waiting was the best option.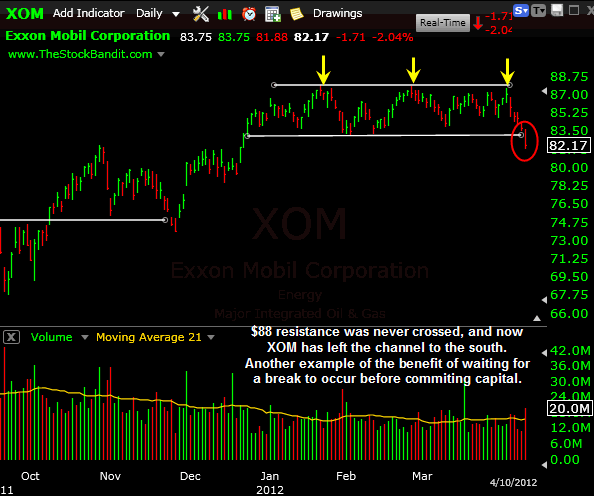 F is one more on the list with $13.05 resistance never being crossed, despite approaching it multiple times of late. Those who bought early in hopes of getting in "cheaper" ahead of the breakout actually paid up. The stock has exited its trading range to the downside, leaving premature buyers in what I'd call the "hurtin for certain" department.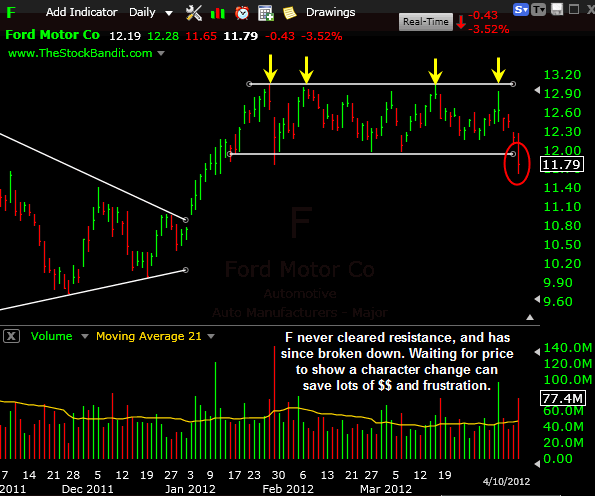 Traders by and large love to predict what's coming, and often will take anticipatory trades as such.  Doing so can be an expensive way to get caught in a stagnant name.
Carefully consider whether a stock is truly getting on the move before committing capital to entries.  Could be that waiting a little longer provides you with not only better prices, but better defined exits as well.
Trade Like a Bandit!
Jeff White
Producer of The Bandit Broadcast
Get our free newsletter to keep up!
Follow @TheStockBandit