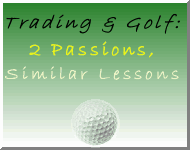 Every year in the golf world, newer and better equipment is revealed to make the game easier to play. Sweet spots get bigger, clubs get lighter, the ball goes farther. The problem is that the equipment only improves the results of the player incrementally – it doesn't give them a great skill. That part they have to "dig out of the ground", as Ben Hogan said. Trading is similar in that each year, new software and faster PC's are produced which have the allure of quick and easy profits to the trader willing to purchase them. The fact is, traders are still limited to their own skill levels regardless of if they have the fastest computer or internet connection or trading platform. A 20-handicap golfer will probably only be able to hit that one perfect drive about once a round, so spending $400 on the newest oversize driver to replace last year's model won't show him the improvement he's looking for. He's far better off spending that same money on something that will improve his process, like taking some lessons or paying for range balls to hit while he tries to groove his swing better. Once he's able to play more consistently, he'll be far more capable of seeing a difference with better equipment. Traders can relate to this and avoid paying up for products with every possible bell and whistle available if they lack the discipline to trade consistently to begin with. Upgrade your method first, your equipment later. Odds are it isn't the equipment causing you trading trouble.
Jeff White
President, The Stock Bandit, Inc.
www.TheStockBandit.com
[tags]Golf, Golf Equipment, Ben Hogan, Trading Psychology[/tags]
By the way, subscribing to this RSS feed will mean you won't ever miss a post!