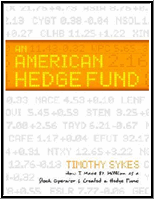 I love to read trading books, so I'm always pleased to have the opportunity to do book reviews when writers offer to send me a copy of their book. Recently I was asked by Timothy Sykes if I would be interested in reading and possibly reviewing his upcoming book, An American Hedge Fund. I obliged, and soon after I found an "uncorrected proof" copy of the book sitting in my mailbox. I was pleasantly surprised to also find a very nice handwritten note by Timothy thanking me and offering an open invitation to contact him regarding any questions I may have. That set the stage for what was to become a very good read.
With a hectic schedule like most of us have, I found occasions to work my way through the book over the course of the last couple of weeks, but as I got to it I found it was a real page-turner. Once I completed it a few days ago, my plans were to post my review this weekend, but when I saw my friend Charles Kirk posted his review yesterday and then Timothy appeared on Fox News today, I figured it was time to stop dragging my feet!
I had seen Timothy on CNBC (he was the first to bring models to the show – nice touch Tim!), in Trader Monthly magazine, and he also stars in Wall Street Warriors on MOJO. He definitely was getting some press, so I was interested to see how he had gotten there.
This was a book I thoroughly enjoyed. In fact, not since Dumb Money have I found a trading author's sarcastic humor and no-holds-barred honesty regarding his trading decisions, conquests and faults so authentic and compelling. I related to so much of it as a trader, was inspired by his successes, and was reminded of important lessons through his failures. Timothy's style of writing kept me entertained and intrigued as to what would happen next, plus I kept getting waves of nostalgia whenever he'd mention flash-in-the-pan stocks of the 4-letter variety which I'd also traded in recent years. It can be fun to dabble in the story stock of the day, and fading those moves in micro-cap stocks just happens to be Timothy's specialty as a trader – he's the first I've known to do so well with such a strategy.
Timothy's story takes you through the complete transition from his $12,000 bar mitzvah money all the way to his multi-million dollar Cilantro hedge fund, chock full of juicy details along the way. The P&L numbers keep on getting bigger, and he keeps nothing in reserve when it comes to his feelings after each individual victory or defeat. You'll relate as I did not only to the highs and lows of his trading, but to the calculated (and sometimes uncalculated) risks he takes, the disciplines he learns to employ, the pain his weaknesses occasionally cause, and even the burnout he sometimes encounters.
His audited returns are certainly impressive, but he gives the reader a very clear glimpse of just what it takes to get there. Timothy details the lifestyle of a big-city trader, the journey of building a hedge fund when you're a small fish, how to adapt to changing markets, and how to deal with the everyday challenges and thrills of just being an active trader.
Even though my copy of it was free, I found An American Hedge Fund to be an excellent book which has a lot to offer any self-driven investor or trader. Watch for it in stores or at Amazon October 1st this fall and pick up a copy for an entertaining read!
Jeff White
President, The Stock Bandit, Inc.
Swing Trading & Day Trading Service
www.TheStockBandit.com
[tags]Stock Market, Day Trading, Stock Trading, Investing, Swing Trading[/tags]