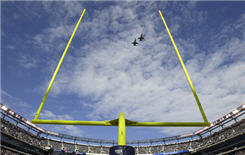 It's that time again…time to reflect on the previous year, see what you can learn from it, and then determine how to apply it in the year ahead.
I've talked quite a bit about goals here, so rather than reinvent the wheel, I'm going to review goals posts from the past. Get your clicker ready and hit the links at will!
Trading shouldn't be everything, so have some off-the-screen goals to go alongside your account-related objectives.
If you go about it the wrong way, goals can actually impede progress, but done correctly they can provide big incentive and some satisfaction.
Your dedication and preparation in the year ahead can deliver impressive results, but keep in mind that making big progress in trading requires patience. It's a process, so it's all about making good trades and trusting that the results you want will be there.
Stay in the game and believe that the opportunities will be there if you're around to identify them. You'll need to take these 5 steps to reach your goals, but a year from now just imagine the difference it could mean to your trading.
Know where you've come from, yes, but also where you're going. So say what you will about goals, but I think they are a must.
Trade Like a Bandit!
Jeff White
Producer of The Bandit Broadcast
Follow TheStockBandit on Twitter or get our free newsletter to keep up!